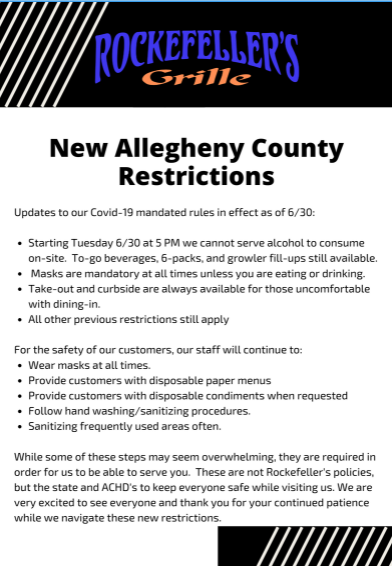 Updates to our Covid-19 mandated rules in effect as of 6/30:
Starting Tuesday 6/30 at 5 PM we cannot serve alcohol to consume on-site. To-go beverages, 6-packs, and growler fill-ups still available.
Masks are mandatory at all times unless you are eating or drinking.
Take-out and curbside are always available for those uncomfortable with dining-in.
All other previous restrictions still apply
For the safety of our customers, our staff will continue to:
Wear masks at all times.
Provide customers with disposable paper menus
Provide customers with disposable condiments when requested
Follow hand washing/sanitizing procedures.
Sanitizing frequently used areas often.
While some of these steps may seem overwhelming, they are required in order for us to be able to serve you. These are not Rockefeller's policies, but the state and ACHD's to keep everyone safe while visiting us. We are very excited to see everyone and thank you for your continued patience while we navigate these new restrictions.
For previous mandated restrictions/rules please click here.